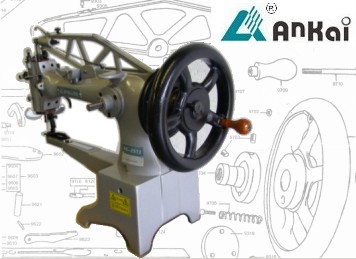 Our ANKAI AK2972 Small Cylinder Arm Patcher is an Ideal replacement for the SINGER 29K71 Patcher.
Designed for Sewing Leather, Rubber and other difficult tubular items where space is at a Premium. Used widely in the repair of Boots, Shoes and Luggage. Also used in the manufacture of Archery, Equestrian and Hunting Products.
Can be used manually with the Option of Front or Side Handwheel Mounting or with our Optional Unit Stand With Clutch Motor. Foot operated control which leaves both hands free.


All ANKAI Machines have attained CE certification as meeting or exceeding European requirements for Quality and Safety.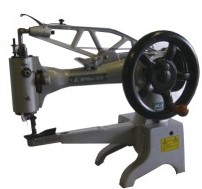 Exact Replica of the Legendary SINGER 29K71 Machine.
Parts Interchangeability with The SINGER Machine





Universal Top Feed allows Sewing In any Direction
Easily Changed Stitch Size On a Fulcrum Screw
Small Cylinder Arm for 'Hard To Reach Places'
Use With Front Or Side Mounted Handwheel
Uses Standard DPx17 (135x17) Needle
Independantly Adjustable Thread & Check Tensions